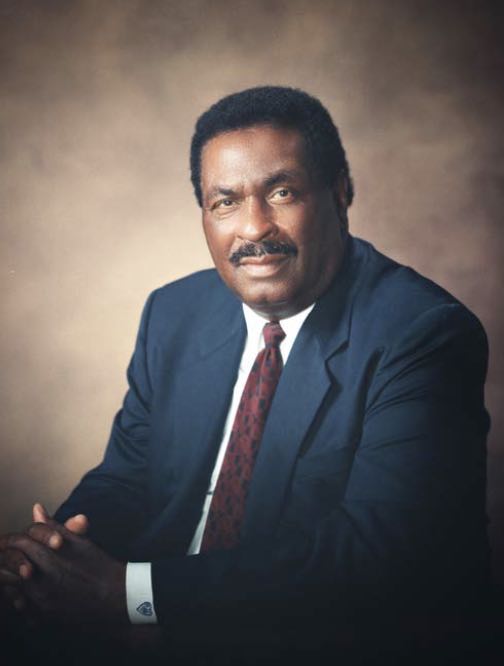 Robert E. Allen, Jr., MD ('69), our esteemed colleague, and for many years, an attending surgeon at Mount Zion Hospital (now UCSF Medical Center at Mount Zion), has passed away at the age of 83.
Dr. Allen, originally recruited to UCSF by Dr. J. Engelbert Dunphy, was a surgical oncologist who specialized in in melanoma surgery. He was the first African-American Clinical Professor of Surgery at the University of California San Francisco (UCSF), serving as a distinguished faculty member for over four decades.
Among his legion of friends and trusted colleagues are Dr. Haile Debas, Chancellor of UCSF from 1997-98 and Dr. William Blaisdell, former Chief of Surgery at SFGH "the General" (now Zuckerberg San Francisco General Hospital and Trauma Center).
Robert was a cofounder of the Northern California Melanoma Center, along with his friend and trusted colleague, Dr. Lynn E. Spitler, and other surgeons. Dr. Allen participated in the group's weekly consulting panel and performed surgery on the Center's patients until his retirement. He was a skillful and dedicated surgeon.
Robert always wanted to be a doctor. He realized his dream and became a highly dedicated professional in the pursuit of excellence. He received the Bachelor of Science Degree in Biology from Florida A&M University, the Masters of Science degree in Genetics from Michigan State University, and the doctorate of Medicine from Meharry Medical College.
Dr. Allen completed his general surgery residency at the University of California, San Francisco, and was a fellow in Surgery Oncology at Memorial Sloan-Kettering Cancer Center in New York City. Robert went on to complete two additional postdoctoral fellowships, one in surgery at the National Institute of Health (NIH) and the other in peripheral vascular research at San Francisco General Hospital.
In the book, The History of the Surgical Service at San Francisco General Hospital, it was noted that Dr. Allen was a fellow in trauma, training under the noted surgeon F. William Blaisdell, MD, a former President of the UCSF Naffziger Society, and organized the ambulance paramedic program.
"During the initial years of Blaisdell's tenure, his NIH grant in Cerebrovascular Disease, which had been used to start the vascular fellowship at the VA, continued at SFGH. The fellows served as junior attendings and helped follow the vascular cases. Lou Buscaglia, who completed his UC chief residency in June 1968, came with Blaisdell as a vascular surgery fellow. Peter Braunstein and Tom Maxwell provided additional staff support as fellows in the years 1968-1970. The last clinical fellow was Robert Allen—Bob was essentially a fellow in trauma, as his year was spent organizing the ambulance paramedic program."
Dr. Allen authored many articles for medical periodicals, and wrote chapters in an array of medical publications. He was a member of various honor societies and he held numerous professional memberships. Robert traveled the world speaking at medical conventions throughout the United States and Europe. He vacationed in Europe, Africa, Asia, Fiji and the Caribbean. He prided himself in teeing off on golf courses around the world. Robert also loved western movies and sailing on his 47ft sailboat "Dark Passage" in the San Francisco Bay and the Pacific Ocean.
Dr. Allen's presence will be sorely missed. He was a wonderful friend and colleague.
Read the full obituary of Dr. Robert E. Allen, Jr.
Donations
In lieu of flowers, the family requests that donations to honor the memory of Dr. Robert E. Allen, Jr. be made in his name to support the UCSF Department of Surgery's mission.
Online
To make donations online, please visit https://makeagift.ucsf.edu/surgery
Check the box: "This contribution is in honor or memory of someone"
Then follow the prompts.
Via U.S. Mail
Please make checks out to the UCSF Foundation.
On the memo line of the check (or an attached sheet of paper) write:
"Department of Surgery (B0605) – In memory of Robert E. Allen, Jr., MD"
Please email the check to:
UCSF
P.O. Box 45339
San Francisco, CA 94145-0339