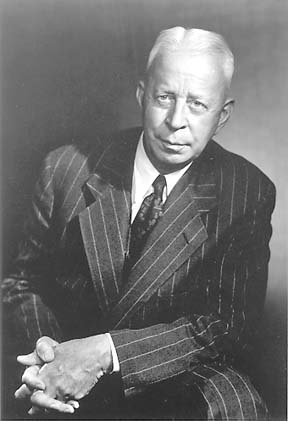 Howard C. Naffziger was a true Californian whose life and career spanned a period of exciting change in the history of California and specifically the history of the University of California. He was born in 1884 in Nevada City, CA, just north of Auburn in the Sierra Foothills. His father was an immigrant from Germany who owned a butcher shop in town. Here are some photos of Nevada City – they still advertise it as a place "frozen in time". Here is a shot from the late 19th Century – this is the Union Hotel, the building in which Naffziger was actually born. He had a great love of animals, owning 13 dogs and a number of farmyard animals, and at one point aspired to be a farmer. His mother saw potential for greater things in young Howard and pushed him in his studies, even though he himself disliked school for much of his youth. At the age of 9, he broke his leg in a sledding accident and was cared for by town physician Robert Hunt; this experience had a lasting impact on Naffziger, who later stated in his memoirs "My admiration for … this country doctor must have been a factor for my choice of medicine… shortly after the accident, I recall reading a book about a brain surgeon which made me want to become one."
Naffziger took a rather circuitous path to his final career, however. In his late teens, rather than attend college, he worked for the Culbertson Mine on the Yuba River, near the town of Graniteville, pictured here. For his labor he was paid a grand total of $3 a day. After a year and a half of mining work, he chose to return to school, and came here to the Bay Area to study at UC Berkeley and then at the medical school at UCSF. While in San Francisco, he helped take care of victims of the 1906 Earthquake, and later worked at the medical clinic at the Ingleside Racetrack, pictured here – I, for one was surprised to learn that there was a giant racetrack located just over past City College, and that it actually served as a medical clinic for many years when the San Francisco General was overflowing. Naffziger later recalled how patients and horses were housed and treated in close proximity. At UCSF, Naffziger came to know Camillus Bush, a surgeon who had spent time at Johns Hopkins University and who had a special interest in the nascent field of neurosurgery. Bush was impressed enough by Naffziger that he recommended him for surgical training at Johns Hopkins. Here is a picture of the Hopkins medical campus from 1900.
The surgical training program at Hopkins in 1908 was still under the direction of William Halsted, among the most famous and influential American surgeons of the era. While at Hopkins, Naffziger distinguished himself and was able to attract the attention of Harvey Cushing, pictured here, widely known as the father of neurosurgery. Naffziger became one of Cushing's 2 junior residents, alongside Walter Dandy, pictured here, who would eventually become a prominent Hopkins neurosurgeon himself. Tales of Dandy and Cushing's love-hate relationship are legendary and beyond the scope of this talk, but here is a picture of the two of them in their tennis whites before trying to beat each other's brains in on the court. Naffziger excelled under Cushing's tutelage, and by 1912 he was ready to return home to California with an abundance of new skills and knowledge. He began his faculty career at UCSF and very quickly became one of the busiest surgeons on staff, tackling brain tumors, abscesses, decompression of hemorrhage, and treatment of traumatic injuries of the spinal cord and peripheral nerves that few others would dare touch.
Naffziger's time at UCSF was interrupted in 1917. World War 1 was in full conflagration, and reports from the Western Front indicated that wounded soldiers were sorely lacking neurosurgical care. 15% of casualties on the Western Front sustained intracranial injuries. This was in marked contrast to previous wars, largely due to differences in tactics and technology. Many of the assaults carried out utilized explosive shells designed to explode in mid-air and scatter shrapnel and lead balls over a wide area. Combine this horrific technique with the fact that many soldiers did not have helmets or other head protection until midway through 1916, and it is easy to see why so many soldiers suffered severe head trauma. When the US formally entered the war in 1917, the Army Surgeon General, William Gorgas, quickly recognized the need for doctors equipped to deal with head injuries. Of interest, the initial subcommittee on Head Trauma was a subdivision of the Committee on Ophthalmology. Harvey Cushing was enlisted to help organize and staff the battlefront medical stations. Postcards were sent out to all the major hospitals in the US, searching out names of surgeons with any expertise in neurosurgery. This yielded about 50 names, of which Naffziger was one. Rapid-fire 10-week training courses were quickly developed so that stateside surgeons with little or no neurosurgical training could learn the basic skills of treating head trauma, allowing the US Army to fill in the gaps. These newly minted trainees were referred to as "70-day Brain Surgeons". By the end of 1918, there were 190 US brain surgeons in France.
This is a picture of Naffziger during World War 1. Naffziger had much more than 70 days of experience in neurosurgery, and after spending time stateside at military hospitals in South Carolina and New Jersey, he traveled to the European front. Cushing assigned him to staff Base Hospital #115, the main neurosurgical hospital in Vichy, France. Unfortunately, the system created by Cushing appears to have suffered from some organizational deficiencies, largely due to issues with triaging patients and most effectively utilizing the expertise of the neurosurgeons on hand. Many of the experts in neurosurgery, Naffziger included, ended up treating a wide host of battlefront injuries, as the system Cushing envisioned broke down amidst the chaos of the ongoing war. Cushing later lamented the fact that many head injuries ended up being treated by non-experts while his hand-picked, and in some cases, personally-trained neurosurgeons were overwhelmed with treating patients with other types of injuries. A brief survey of Naffziger's patient logs from France, available in the archives here at UCSF, reveals a wide range of battlefield injuries, from extremities to the abdominal and thoracic regions, in addition to the head and brain. Cushing reorganized his forces after many stops and starts, but results were never quite to his satisfaction. The war ended in 1919.
Only 3 of the 70-day brain surgeons returned to the US and practiced full-time neurosurgery. There was at least one beneficial outcome of the newfound emphasis on expertise in surgery of the brain and nervous system that had occurred during World War 1 – the formal recognition of the new specialty of neurosurgery. William Mayo, president of the American College of Surgeons, declared at the 1919 meeting of the ACS that the new field of neurosurgery had been created. In March 1920, the first meeting of the Neurosurgical Club was held in Boston; interestingly, Naffziger was not one of the initial 10 surgeons whom Cushing selected for this prestigious club. East coast bias perhaps? – the furthest West club member was from Mayo Clinic. Naffziger joined within the next few years, and the club would soon be known as the Society of Neurological Surgeons.
Shortly after Naffziger returned to the US in 1919, he married Louise McNear of Petaluma – they would remain married for more than 50 years. He returned to work at UCSF, picking up where he had left off in his neurosurgery practice. In the 2 years he was gone, the records of the UCSF Neurosurgery Division were quite sparse, as none of the surgeons who had stayed stateside were willing to tackle the types of challenging cases that Naffziger was up for. A grand total of 8 neurosurgery cases were done in those 2 years. By the fall of 1919, Naffziger made the decision to focus solely on neurosurgery, giving up his practice in other types of general surgery. He opened an office downtown on Post Street, and soon became the busiest neurosurgeon on the West Coast. In addition to his work in private practice and at UCSF, Naffziger covered the Letterman Hospital in the Presidio, continuing to care for many of the wounded from World War 1.
In 1928 UCSF decided it was time to form a formal Department of Surgery, and Naffziger was asked to become the first Chair. To the leadership's surprise, he politely declined. His clinical practice had become quite robust, and Naffziger did not believe he would be able to handle the burdens of a busy practice and the new administrative role. The University pressed him, however, and in response he gave them a list of demands. If Naffziger were to oversee the formation of a new Department of Surgery, he would need to revamp the entire medical student curriculum, restructure the residency training program to be more in line with the Halstedian system under which he had trained, and start an animal lab for surgical skills teaching but also for research. The University granted all of Naffziger's wishes, and in 1929 Naffziger became the first full-time Professor Surgery at UCSF, and its first Chair of the Department of Surgery. The UCSF Department of Surgery was the first university surgery department West of the Mississippi River.
The transition, as might be expected, was not an easy one. Building a residency from the ground up while reshaping the medical student curriculum was a massive undertaking, and many staff bristled at their new duties and roles. The biggest complaint by existing surgeons was the loss of operative cases to the residents. In addition, after nearly a decade of focusing just on neurosurgery, Naffziger was now in charge of teaching and administrating surgery and surgeons of all areas. He recruited help from his colleagues and friends, including his childhood friend from Nevada City, Dr. Henry Searles. Over the next few decades UCSF became the premier surgical training program of the West Coast.
In 1937 Naffziger was involved in the care of one of the true icons in American music history – George Gershwin, pictured here. The 39-year old Gershwin, living in Hollywood at the time, developed rapidly progressive neurologic symptoms and was diagnosed with a brain tumor that required surgical resection. His family cast a wide net to find the most qualified surgeon, even involving the White House in their search. Cushing had recently retired. He recommended Dandy, who was on his yacht on the Chesapeake Bay. Dandy was transported by the military to Newark Airport, but while he was traveling, the Gershwins were also able to get a hold of Howard Naffziger, who was vacationing in Lake Tahoe. Lest you think neurosurgeons of the era spent all of their time lolling around on yachts and vacationing in fancy hotspots, I should remind you it was early July, summer break time. He was able to get to LA more quickly than his old co-resident Dandy, and on the morning of July 11, 1937 he assisted a young neurosurgeon, Carl Rand, in the operation at Cedars-Sinai Hospital in LA. It was not successful, and Gershwin died later that day.
Naffziger's contributions to the field of neurosurgery were many. He reported on treatment of subdural hematoma, spinal cord injuries, skull fractures, and the surgical treatment of exophthalmos in patients with Graves' disease. A phenomenon of shoulder and upper extremity pain related to hypertrophied scalene muscle would become known as Naffziger syndrome after he described a technique for surgical scaleniotomy.
By 1949, the field of Neurosurgery had become subspecialized enough to merit its own separate Department at UCSF, and Naffziger handed over leadership of the Department of Surgery to Glenn Bell, and became the first chair of the Department of Neurosurgery.
Naffziger would have a little more experience with wartime surgery during World War 2. He was a member of the Surgical Committee of the National Research Council, and visited several medical centers and battlefront hospitals in Europe and in Africa. This is a picture from our UCSF archives of one of his visits, in June 1943 to General Hospital number 30 on the European front, staffed by UC physicians, nurses, and other health professionals.
In 1952 Naffziger was appointed to the UC Board of Regents, and he spent the next several years expanding the number of medical campuses in the UC system. Even after retiring from clinical duties, he maintained an active role in teaching students and residents.
In 1949 the Howard C. Naffziger Society was formed, composed of graduates of the UCSF Department of Surgery Residency Training Program. This is a picture of Naffziger with the members of the Naffziger Society in 1960, just a year before his death. This is a picture of the Naffziger Society meeting from 2017. The faces have definitely changed, but the spirit of camaraderie and pride in having been a part of the UCSF Surgery family persists.
Naffziger was apparently a pretty tough customer, as many surgical leaders are, exacting in his standards and unflinching in his demands upon his students, residents, and staff. His official biography on the UCSF website described him as "near frightening … a man of aristocratic bearing, not to be counted among one's enemies." Here are some pictures from later in his career, as he ascended to more prominent leadership roles and eventually to a spot on the Board of Regents. In 1954 6 different medical and surgical journals joined forces to publish a special issue commemorating his 70th birthday. He died in 1961. A bronze bust of Naffziger still sits on the 4th floor of the UCSF Library.
By Wen Shen, '07
I went into this assignment with only the barest knowledge of the man who is the namesake for our surgical society. I learned very quickly that Naffziger was a true Californian who impacted our institutions of UCSF and the UC system as a whole in multiple ways. His life and career spanned a period of transformation in surgical practice and subspecialization, and the problems that he and Cushing encountered on the Western front would play out in the growing pains of surgical departments and subspecialties here in the US. Today we continue to build upon the legacy that Howard C. Naffziger established here at UCSF.
---
View the PDF of Dr. Shen's presentation at Naffziger Day 2019 that supplements the article above