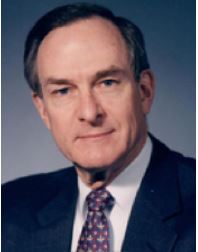 We are deeply saddened to inform you that Lawrence W. Way MD (UCSF Naffziger 1967), Professor Emeritus of Surgery and longtime Member of the UCSF Surgery faculty passed away peacefully in his sleep, surrounded by family.

Dr. Way was one of the prime surgeons that propelled UCSF to its status as a world-class institution. He served in a diversity of leadership roles within the UCSF Department of Surgery and the medical community as Chief of the Blue Surgery Service, Director of the Laparoscopic Training Programs, and Professor of Surgery, to name a few. Dr. Way was also highly active on a national and international level in surgical organizations such as the American College of Surgeons and the International Society of Surgery. Dr. Way served as president of the Naffziger Society (2004-2005) and was the society's Historian Emeritus. 
 
Initially educated on the East Coast, Dr. Way completed a Bachelor of Arts at Cornell University in 1955 before completing his Medical Doctorate at the University of Buffalo Medical School in 1959. He came to San Francisco to intern at UCSF that year, working through the ranks and completing residency training in 1967. Afterward, he conducted several years of research in gastrointestinal physiology at UCSF and UCLA as a fellow, culminating in being recruited as a faculty member to UCSF by his mentor Bert Dunphy, then chair of the department of surgery.
 
Early in his career, Dr. Way was the Editor-in-Chief of Current Surgical Diagnosis and Treatment, one of the primary surgical texts that educated residents and students worldwide in the era before the invention of the internet. Through this work, Dr. Way became probably the best-known American surgeon on the West Coast and was widely recognized for his broad surgical expertise and formidable editorial acumen. No contributor was spared from the red pen of Editor Way!
 
In the early 1990s, Dr. Way was one of a handful of general surgeons to embrace laparoscopic surgery as the future of American surgery and refocused his career around it. As many surgeons around the country were contemplating whether or not it was a fad, Dr. Way recognized it was the future. He led the UCSF faculty in the development of the laparoscopic surgical specialty. He organized the faculty into groups to figure out which procedures could be done laparoscopically; we then embarked on a system-wide process of inventing the field of laparoscopic surgery. He led the development of advanced techniques to perform laparoscopic fundoplication, hiatal hernia repair, Heller myotomy, splenectomy, liver resection, and biliary exploration. Many of the early papers came out of UCSF. This early innovation attracted patients from across the globe – at one point, UCSF received large numbers of patients from Asia, Europe, and the Middle East suffering from achalasia to have a laparoscopic Heller myotomy by Dr. Way and avoid open myotomy. These pioneering techniques live on to this day.
 
Dr. Way's innovation in advanced laparoscopy fueled a robust fellowship training program, drawing fellows from around the country and international fellows from Japan. Dr. Way's unremitting focus on how to best train surgeons is what made his mentorship elite. While he had done remarkable research and was the technical go-to surgeon in his chosen area, the development of the surgical fellows and house staff was always his top priority. A stern taskmaster on rounds and in the operating room, he set standards that several generations of UCSF-trained surgeons used as a benchmark for performance. Dr. Way was the last court for complex laparoscopic cases, and his clinics were models for being honest and understanding patients. In addition, Dr. Way constantly looked for avenues to better his students. In this arena, his interests ranged from the effects of fatigue and safety in the OR to teaching laparoscopic skills in the animal lab.
 
Dr. Way's focus on optimizing the instruction of surgeons was not limited to the fellows and house staff. He was a pioneer in training mid-career surgeons in laparoscopic techniques. He developed a series of hands-on advanced videoscopic training courses with superbly organized lectures and labs that became justifiably famous and credited to UCSF nationally and internationally. Finally, Dr. Way was a proud UCSF historian who was part of the university through its ascent from a good regional medical school to a world-class institution.