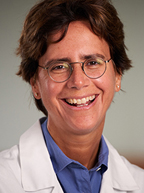 Julie Ann Sosa, MD, MA, FACS has been named the new chair of the UCSF Department of Surgery. She will begin her tenure as Chair on April 1, 2018. Dr. Sosa will also hold the Leon Goldman, MD, Distinguished Professorship in Surgery. Dr. John P. Roberts, who has led the department as interim chair since October 2016, will continue in his leadership role until Dr. Sosa's arrival.
Dr. Sosa is currently a professor of Surgery and of Medicine (Oncology) and chief of Endocrine Surgery at the Duke University School of Medicine. She also serves as director of the Surgical Center for Outcomes Research (SCORES), leads the Endocrine Neoplasia Diseases Group, and co-leads the Solid Tumor Therapeutics Program at the Duke Cancer Institute and the Duke Clinical Research Institute.
Dr. Sosa was born in Montreal and raised in upstate New York. She received her AB at Princeton, her MA at Oxford, and her MD at Johns Hopkins, where she also completed the Halsted residency program and a fellowship. Her clinical interest is in endocrine surgery, with a focus in thyroid cancer. She is widely published in outcomes analysis, as well as cost-effectiveness analysis, meta-analysis, and survey-based research. She has served as PI for a number of therapeutic and correlative clinical trials, largely centered around the development of novel small molecule therapies for advanced thyroid cancer and understanding environmental risk factors for the development of the disease. She has mentored more than 70 students, residents, and fellows, and has made surgical education a focus of her science, co-directing the multi-year, prospective National Study of Expectations and Attitudes of Residents in Surgery (NEARS) in conjunction with the American Board of Surgery.
Her large research group is multi-disciplinary, and she has collaborators in epidemiology, health services research, biostatistics, endocrinology, oncology, pathology, radiology, pharmacology and cancer biology, environmental science, and stem cell research. She has published more than 280 peer-reviewed manuscripts, 50 book chapters, and has authored/edited 4 books. Dr Sosa has been the recipient of grants from the NIH/NCI, Paget Foundation, the Association for Academic Surgery, the Donaghue Foundation, the American Geriatrics Association/Hartford Foundation, and the Connecticut Stem Cell Research Fund.
Dr. Sosa is the newly elected editor in chief of the World Journal of Surgery, having served previously as deputy editor of JAMA-Surgery and associate editor of the Journal of Surgical Research. She is on the editorial boards of the Annals of Surgery, Surgery, Annals of Surgical Oncology, Endocrine, Hormones and Cancer, Journal of Thyroid Research, and the International Journal of Endocrine Oncology. She is Treasurer of the American Thyroid Association (ATA) and serves on the Board of Directors/Executive Council of the ATA, Society of Surgical Oncology, International Thyroid Oncology Group, and Association for Academic Surgery Foundation. She has served on ATA guidelines committees for hyperthyroidism, thyroid nodules and differentiated thyroid cancer, and on the NCCN guidelines committee for neuroendocrine tumors.