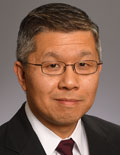 The Naffziger Society is pleased to announce that Edward P. Chen, MD has assumed the leadership reins as the 70th President of UCSF Naffziger Surgical Society for the term 2019-2020 term.
Dr. Chen is Professor of Surgery in the Division of Cardiothoracic Surgery, Department of Surgery, at Emory University School of Medicine in Atlanta. He is also Director of Thoracic Aortic Surgery and Executive Director of the Aortic Center.
Dr. Chen has had a distinguished career as a cardiothoracic surgeon, as a valued educator, clinician, author, and presenter. He is world-renowned for his pioneering work in aortic surgery.
Dr. Chen has been the recipient of numerous awards and honors throughout his career. Most recently, he received the 2019 Socrates Teaching Award from the Thoracic Surgery Residents' Association.
Dr. Chen follows in the footsteps of Dr. Mika Varma of UCSF, who served ably as the Society's President for the 2018-2019 term. Notably, under her outstanding leadership, the most recent class of graduating UCSF Plastic Surgery Chief Residents were celebrated as members of the Society alongside their General Surgery Chief colleagues.